Select your level of play, and then head for the pro shop to choose between Black Carbon, Glass Fiber, and Ceramic Clubs.

Tee off by yourself or play 18 holes with a friend. Besides the One and Two Player modes there's also a practice mode, match play (head to head), and a full-blown international tournament, where you'll stroke it out against 15 competitors.

Tournament play lasts 12 rounds, 18 holes of golf each. Most rounds are standard "stroke" play but the seventh and eighth rounds are "match" games. Things really get serious when match game ends in a tie, and players move into a sudden death play-off.

During the tournament players earn higher skill levels, more knowledgeable caddies, and more power. You'll earn a password at the end of each round of the tournament.

The game let's you play on three different courses; Japan, the United States, and Great Britain.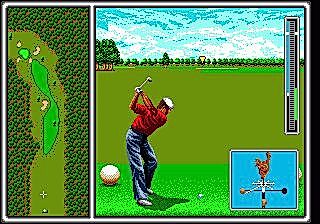 There are no other documents for this game