The Trouble Shooters, Mania Ōtorii and Maria Haneda, are a pair of bounty hunters who will take any job that involves lots of trouble and plenty of shooting. Their last job saw them saving the Crown Prince Denka from the evil military mastermind Don Morguestein, presumably ending his evil plans. However, three days later, Morguestein has returned once more to take revenge upon the Trouble Shooters. Mania and Maria, never wanting to miss out on the action, head off to take care of him once and for all.

Battle Mania Daiginjō is a comical anime-themed scrolling shooter, and the sequel to Trouble Shooter. The player controls the Dirty Pair-esque Mania and Maria simultaneously, with Maria following closely behind Mania, and also able to turn around and fire to the rear. Unlike most shooters, Mania has a health meter which can be replenished via pickups. There are a variety of weapons to choose from at the start of each stage, and during the game, weapons can be powered up. There is also a screen-clearing bomb attack, but it must be allowed to charge back up each time it is used.

The game includes a standard single-player mode with three difficulty settings. There is also a score attack mode which challenges the player to earn the most points possible in two minutes on a set stage.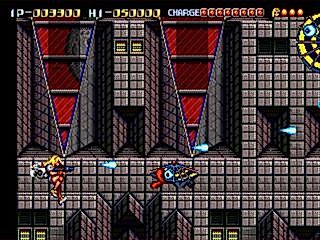 There are no other documents for this game