The dinosaur inhabitants of Planet Jura lived peacefully under the watchful eye of their creator, The Egg. One day, though, strange objects appeared from the sky, and even stranger creatures came forth from them. These invaders attacked the peaceful dinosaurs, who had no choice but to flee! A flash of light burst forth from The Egg, and the dinosaurs came to a realization: they must work together to protect their planet, and drive out the alien invaders!

Dyna Brothers is a real-time strategy game similar to Populous, in which the player controls a small army of dinosaurs fighting against an invading alien army. Unlike its sequel, this version only contains a single-player scenario mode. Each side has five types of units, each of which has a distinct appearance and specific strengths and weaknesses. The player can direct individual units, ordering them to move or attack. There are also a small selection of environmental powers, such as earthquakes and floods.

The Egg acts as the player's base, which stores energy and allows the player to hatch more dinosaurs, and must be protected at all costs. The alien army similarly has a base ship, which must be destroyed on each map in order to win.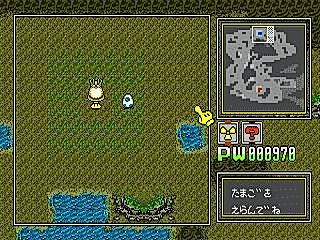 There are no other documents for this game