Danpei Ichigeki is a young boy who loves dodgeball. Danpei's father was a famous dodgeball player when he was still alive, and he joins the Dodgeball Club at his elementary school. However, these kids are very serious about their dodgeball, and the road ahead isn't going to be easy for Danpei.

Dodge Danpei is a team dodgeball game, one of several based on the anime and manga created by Tetsuhiro Koshita, which plays strikingly similar to the well-known Super Dodge Ball. Each team has four main players and three support players, and attempts to knock out the opposing team's main members by throwing the ball at them in various ways. Apart from normal throws, the player can also pass to teammates, and execute special power throws which are harder to dodge or catch.

The game includes several different game modes, including the main story mode which follows the story of the anime, as well as one- and two-player exhibition matches. There is also a "league" mode which allows for a tournament of up to six teams, as well as a training mode where the game teaches the basics of how to play the game.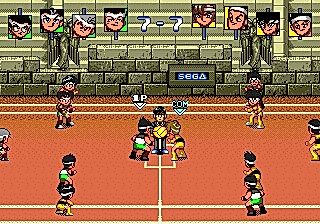 There are no other documents for this game