The game is a side-scrolling boxing game where the player moves left and right to control a screen sized boxer. When the timing is right, the player can unleash a final blow punch which can sometimes KO the opponent in a single strike.

The home versions contain a spectator mode where the player can watch their favorite boxers compete.

The Sega Genesis port adds two boxers: James Buster Douglas (who uses The Detroit Kid's graphics, slightly edited and palette swapped) and Ironhead. It was one of the games used as part of the Genesis Does Campaign, particularly since Nintendo used Mike Tyson for its Mike Tyson's Punch-Out!! video game, whom Douglas had challenged and defeated that year.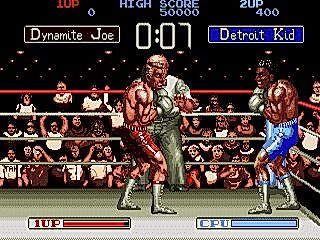 There are no other documents for this game