The player controls a young Mowgli through various side-scrolling levels in a similar mold of Pitfall!. The Mowgli character must shoot or avoid enemies and navigate platformed levels and enemies by running, jumping, climbing vines and using the various weapons and powerups available during the game. Mowgli starts the game with a banana projectile, but may collect invincibility masks, coconuts, double banana shots, and boomerang bananas during the game.

Levels are completed by collecting a sufficient number of gems, then finding a specific character placed in the level, with a boss character being encountered every other level. The player scores points by obtaining gems along with having fruits and other items that contribute to the player's in-game score.

Stages are divided into chapters which, sequentially, comprise the plot. Each chapter opens with a description of the story at that point and the objective of the stage; some stages are completed by defeating a boss, while others have 'friendly' characters which the player is required to find after collecting sufficient gems.

The player has six minutes to complete each level. Depending on difficulty, the number of gems the player must collect to progress is either eight (easy), ten (medium), or twelve (hard), of a total of fifteen gems spread throughout the level.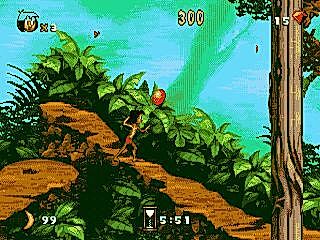 There are no other documents for this game