The 16-bit console version of the movie license Last Action Hero combines side-scrolling beat'em up levels with driving sequences.

Players control action hero Jack Slater through four beat'em up levels. The first two are inspired by the beginning sequence of the movie (the finale of "Jack Slater III"), the third by the hotel funeral inside the movie world, and the last by the premiere of "Jack Slater IV" in the real world. Slater must move to the level exit before the timer or his energy runs out. Various goons stand in his way and must be defeated through kicks or punches. There are four varieties of enemies in the game, wielding either knives, baseball bats, Molotov cocktails or guns. Spent life energy can be refilled by collecting movie tickets that sometimes fall from the sky. The Genesis version adds an additional twist in the first level: a crosshair will follow Slater around and randomly shoot bullets at him. All except the first stage end with a boss fight. Bosses include The Ripper, a helicopter and main villain Benedict.

The driving sequences are also seen from the side. Slater's car must avoid hitting cars and trucks parked on the road while trying to destroy enemy cars by jumping over a ramp and then landing on top of them.

Cutscenes tell the story of the film between levels, following the original plot only loosely.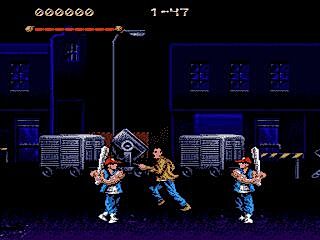 There are no other documents for this game