While the PC version migrated to 3D graphics, NHL 96 on Genesis retains the classic 2D top-down view of the series, while offering different playing modes than the SNES version.

The game features players and teams from the 1994-95 NHL season. Game modes include Regular Games, Shootouts, Playoffs (in either single elimination or best-of-seven mode), and a full season. Creating and trading players is also supported.

While the real NHL season was shortened due to a lockout, the game includes the originally planned 82-game schedule. In NHL 95, any scheduled game could be played. This has been changed in favor of the player picking their team and taking it through the entire season. A scheduled game can either be played or simulated, and the season can be ended at any time, skipping to the playoffs based on current league standings.

Compared to previous entries, many more moves for players have been added, including give-and-gos, one-timers, the spin-o-rama, fake shots and drop passes. For the first time, the game has selectable difficulty levels, while fights between players make a return, having last been featured in NHLPA 93.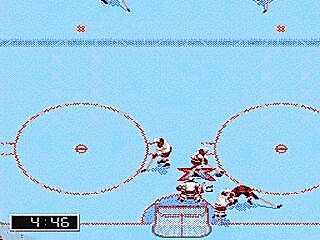 There are no other documents for this game