Mega Q is a general-knowledge quiz game for up to 5 players, themed to look like an over-the-top TV game show. The main attraction is the TV mode, which follows a game show format complete with an intro sequence and commercial breaks (featuring ads for Sega products, of course!).

There are a number of different game modes which change regularly -- there may be various effects on the question to make it more difficult to read, or the game may allow only one player to answer a question. Various bonuses or deductions are awarded based on each player's performance in a round, and the player with the most points at the end of the game is the winner.

The TV mode follows a specific sequence of quiz modes on each play. There is also a free mode where the player can choose a specific quiz type, rather than following the pre-programmed sequence in the TV mode.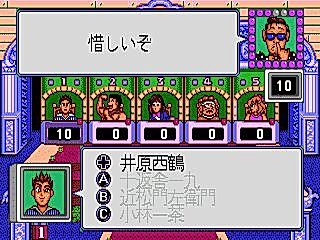 There are no other documents for this game