Set in the world of Greek mythology, Phelios tells the story of a young prince called Apollo, who sets out to rescue his beloved Artemis who was seized by the demon Typhon while exploring the skies with the winged horse, Pegasus. In Typhon's temple, Artemis gets locked in a dungeon where Medusa turns her into stone.

Phelios consists of seven chapters, and in each, you must defeat Typhon's minions using your sword which can emit fireballs at them. However, holding the fire button down for a few seconds will charge the sword; and upon releasing it, it shoots a larger fireball that does a fair amount of damage. During the game, you collect items that increases your speed and give you more firepower.

At the end of each chapter, you have to destroy a boss in order to proceed to the next one. Between each chapter, you can watch an intermission that details what is happening at the temple.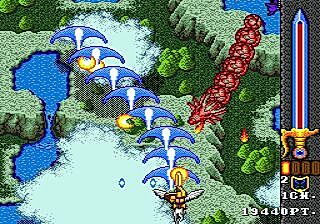 There are no other documents for this game