Premier Manager 97 is the second Mega Drive game in the hit football managing game series of the early nineties. Similar to the first run of games in the series (released between 1992 and 1994), the manager starts (in the Full Game mode) as a lowly division 3 (not Conference) manager, where the goal is to get the club to the top divisions, or get signed to better placed teams. In the Demo mode, the player can choose any Premier League team, but only for a season.

In either of the modes, the player is responsible for carefully assembling the team (and unlike other managers, selecting the appropriate tactics is crucial to win the game), get the best from the transfer market by selling the fading stars and outselling the biggest clubs in England in the quest for the stars of the future, improve stadium capacity and quality (including seating, roof, security and others), sign good deals for ground advertising and balance the budget to make the team finish the season out of the red.

Matches are always simulated, with a ruler showing where the ball is, and with text messages showing actions (like "player passes", "player tackles" and so on). The chances of goals are shown in LED-style animated clips.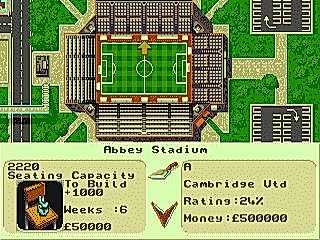 There are no other documents for this game