Sangokushi Retsuden is a turn-based strategy game set in Three Kingdoms-era China. The game takes place on one large map representing the whole of China, which features numerous strongholds held by different factions and many strategic and geographic features.

The player must give orders to each of their generals, such as to move, attack, or retreat, as well as allocate resources such as money and food as necessary. Individual generals will level up as their experience increases. Battles between generals are presented as side-view action sequences.

The game features three scenarios, beginning in 189, 200, and 215CE, multiple difficulty settings, and multiple commanders to choose from for each scenario. Up to three players can play simultaneously, each controlling a different faction.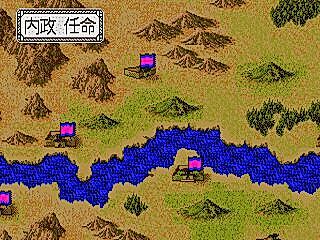 There are no other documents for this game