At the end of First Samurai, the Demon King was able to flee back in time to ancient Japan, so our hero follows him through time in order to confront him.

The game consists of 15 levels crossing various time periods such as the prehistoric age, a futuristic age, and medieval Japan. Throughout these levels are vases that hold souls. A certain number of these vases have to be broken in order to free the captive souls before the game will let the player continue further. The samurai initially starts only with the ability to punch, kick, and jump but can find items like a sword, throwing knives, food items that replenish energy, and a thunder spell can be found that will aid the samurai in his quest against the legions of the Demon King's henchmen.

Options let the player select the number of lives (3, 5, or 7) they start with and the difficulty level (Easy, Brave, Heroic, and Samurai).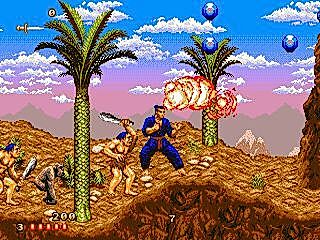 There are no other documents for this game