Counting Cafe is an educational game based on the popular children's show Sesame Street. The player controls Grover, working as a waiter at a restaurant, where Mr. Johnson appears and orders various items. The player must take Grover into the kitchen, collect the items ordered, and return to Mr. Johnson's table, where he will reward the player with a star if the order is correct. If the player picks up the wrong items, they can be taken to Cookie Monster at the back of the restaurant, who will eat them and clear Grover's tray.

There are five sections to each "day" -- Breakfast, Brunch, Lunch, Dinner, and Dessert. Once the player has completed Dessert, a monkey will run by and snatch the last star. Grover then must chase after the monkey to retrieve his last star, after which the game will move on to the next day.

After the first day, Sesame Street denizens will start appearing in the kitchen playing around with food items. Sometimes their activities with a food item will end up landing on Grover's tray, which may result in Grover carrying an unwanted food item, forcing him to give the food to Cookie Monster and having to collect the correct food items all over again.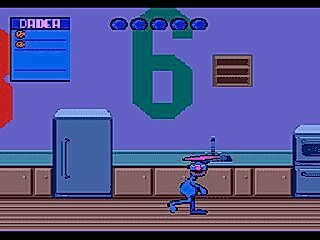 There are no other documents for this game