The alien race of Smogulans, led by Czar Zoster, is invading the Earth, namely the town of Tromaville. The only force that can stop the invasion are the Toxic Crusaders.

Toxic Crusaders for Genesis, based on the animated TV series, is a side-scrolling beat-'em-up. The player can choose to play as either Toxie, NoZone or Junkyard, with no actual difference for the gameplay, which consists of running around beating aliens with melee or distance attacks and sometimes jumping over or evading deadly gaps or pools of water.

As the action moves from the streets of Tromaville through the Toxic Park, Smogulan space ship and other locations, leading up to the palace of Czar Zoster on Smogula planet, the traps get progressively harder to avoid. In certain levels the protagonist can use a motorized skateboard, helicopter or a motor boat. There are a number of power-ups to be found, including limited invincibility and speed-up.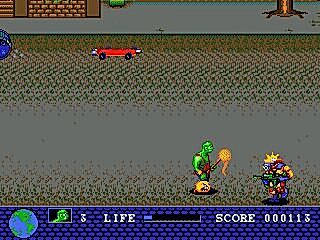 There are no other documents for this game