One year after the first edition of the World Fighting Tournament, won by Lau Chan, invitations are sent once again, this time to the second edition of the Tournament. Will Akira's new techniques be enough to beat Wolf? Can Lau defend his title against his daughter Pai? Will Jacky rescue his sister Sarah, who has been brainwashed to kill him? Will Jeffry make enough money to track down the Satan Shark? And Kage, will he uncover if the mysterious Judgement 6 cartel is behind the tournament? All is yet to be seen...

Sharing the name with the second title in Sega's seminal 3D fighter series, this 16-bit version brings the game to the world of 2D fighters.

While the fully polygonal environment of the arcade/saturn version were scratched in favor of regular sprites and side-scrolling camera due to obvious technological constraints (plus manufacturing costs ruling out the SVP chip used in Virtua Racing) and featuring only the 8 original characters in the series, the rest was directly taken or inspired by it's bigger brother. The arenas are all drawn according to the to the 32-bit titles (and even feature a small parallax scrolling trick to provide a slight 3D illusion), so are the characters, and the also features a lot of the same sound effects and music. Gameplay is also inspired by the original version, with many button combinations remaining unchanged.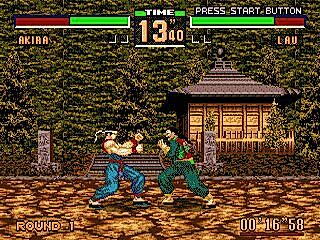 There are no other documents for this game