Wheel of Fortune is based on the television game show of the same name. The game features 4,500 different word puzzles for the player to solve with Vanna White turning the tiles on the board.

The game is played between 3 contestants (either controlled by human or computer players). The game contains six contestant pictures to select from to represent the contestants who will be playing. As in the show, players can spin the wheel, buy a vowel, or solve the puzzle. The game consists of three rounds of word puzzles with the goal being to make the most money by the end of all of these rounds in order to be chosen to play for one of the grand prizes in the bonus round.

Both platforms feature minor graphical differences from each other. Other differences include the Genesis version of the game also has an options screen where players can select the difficulty level of the computer opponents, how fast the timer is, listen to sounds from a sound test, and select which control pad player 2 and 3 will use. The Super Nintendo version lets the player select a different puzzle category if they don't like the current one.

This is the 16-bit version of Wheel of Fortune: Featuring Vanna White that now features more puzzles, digitized photography that came from the actual set of the gameshow, and contains digitized speech clips of Vanna White.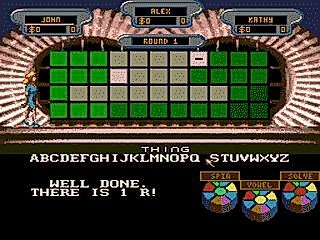 There are no other documents for this game